In a world that is rapidly changing through advances in technology and innovation, Treendale Primary School recognises the need for students to develop learning, literacy and life skills that will equip them as successful people well beyond their schooling years. Alongside excellence in teaching, we recognise that utilising existing and emerging technologies allows students to develop these 21st Century skills in an authentic and meaningful environment.

In keeping with the Department's ICT strategy, students at Treendale Primary School are encouraged to apply critical thinking to become discerning users of technology, in order to develop ideas and communicate creative solutions in a collaborative environment. As a result, our school values the Bring Your Own (BYO) iPad initiative that allows students to enjoy a close to 1:1 student to device ratio from Pre-Primary to Year 6. All classrooms are equipped with Apple TVs for digital screen sharing, and Kindergarten classes are equipped with banks of iPads for student use, while a trolley of MacBooks is available across the school to enhance students' understanding of other common technological devices.
Teachers are also encouraged and supported to reflect on their learning programs against the Technology Integration Matrix (TIM) to ensure technology is effectually integrated so as to maximise potential student outcomes. Classroom teachers are guided to deliver the Digital Technologies curriculum through a whole-school Scope and Sequence that has been designed to build on students prior knowledge and introduce specific new skills as they move through the different year levels. This assists in building the essential and versatile literacy skills students need for everyday learning.

Students at Treendale Primary School are also guided through the Design Technologies curriculum, leading them through the engineering design process to create solutions to speculative and real-world problems. Access to some of the latest technology including Beebots, VR headsets, Oculus and LEGO Mindstorms assist in bringing these and other projects to life as well as increasing their authenticity. This year, students in Year 5 and 6 classes are participating in the annual FIRST LEGO League Innovation Project, with a number of students selected to attend an after-school Robotics program to further extend their skills and understanding.
To assist students and staff with troubleshooting technology issues, two 'Techies' from each classroom are selected and trained up each year. In addition students in Year 6 are also able to nominate themselves for the Learning Technology manager positions on the Student Leadership team. These students assist at iDiscover days aimed at providing professional learning for teachers as well as organising and running the Oculus lunch time reward program. Initiatives such as these, as well as programs in the classrooms, extend students and allow them to develop and practise essential life skills that will serve them well in whatever environment they find themselves in.

Treendale Primary School is recognised for its leadership in the Technologies curriculum, previously being part of the DigiTech Teacher Development School program, providing professional learning to many other educators in our region.
iPad Promise K-PP
iPad Promise Year 1-6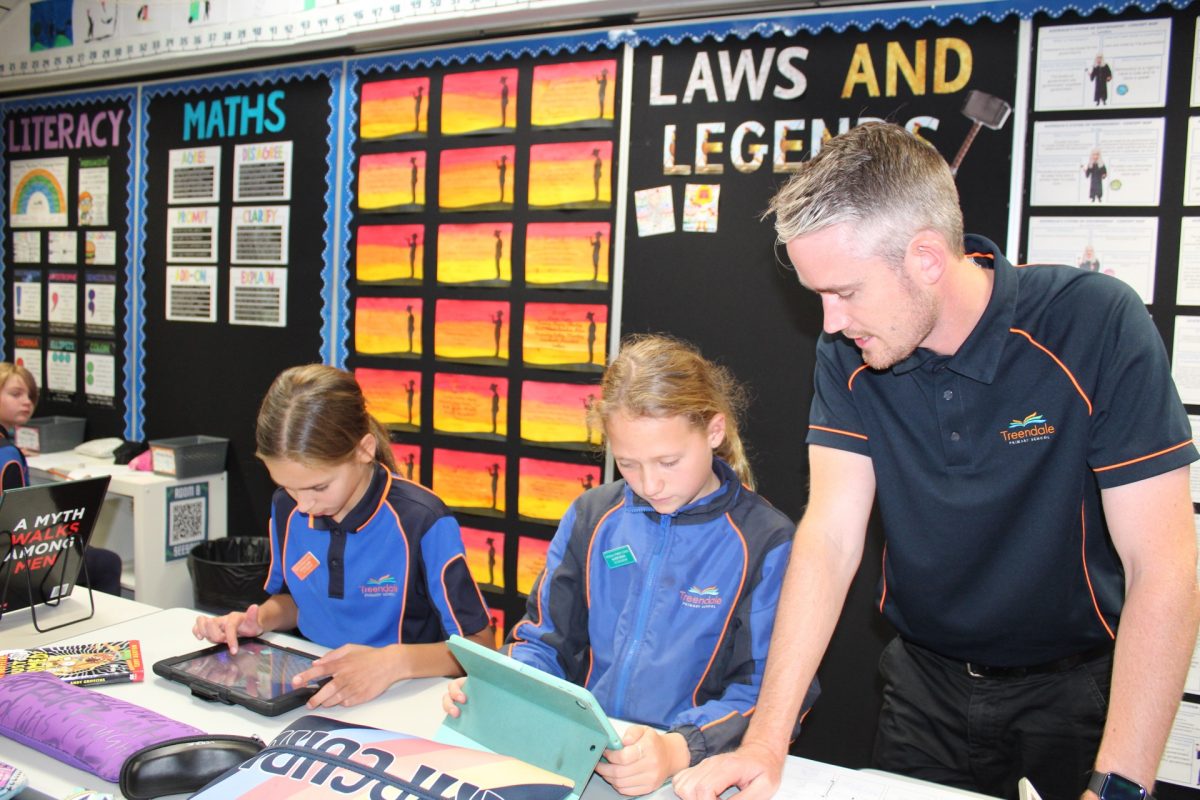 Preparing Your iPad
Through the implementation of the 'bring your own device' (BYOD) iPad program TPS continues to enable students in developing 21st Century skills. The teachers at Treendale Primary School are constantly developing their understanding of digital technologies through the philosophy of the Technology Integration Matrix (TIM).
If you would like to see TPS technology in action, click here to find out how to book in for a tour.
FAQs – Technology at Treendale PS